Canopy Pro Folding Tents For Defence
28 April 2021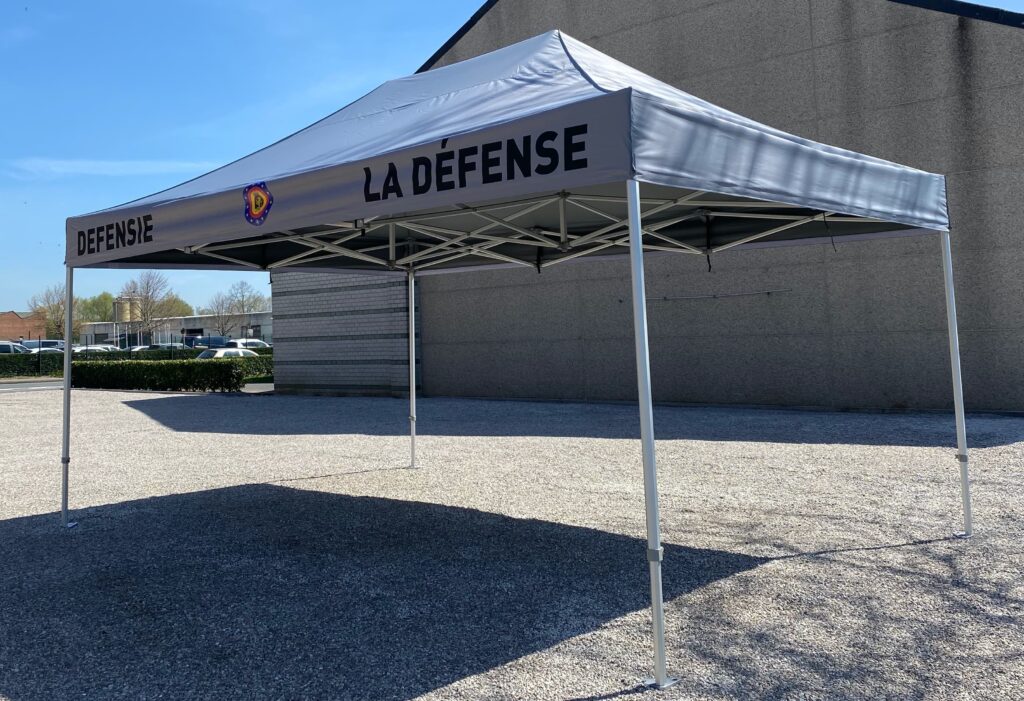 A few weeks ago, the Belgian Defence Force approached Canopy with a request for a spacious, robust and customised Canopy folding tent. For this project, we recommended folding tents from our new Pro 4m range.
About the Canopy Pro Folding Tent
The folding tents in the Canopy Pro range are designed for intensive professional use. They feature a strong yet lightweight aluminium frame, consisting of octagonal profiles with a diameter of 52 mm and extra reinforcement in the corners. This folding tent is perfectly suited for rough work – exactly what Defence needed!
The top of these folding tents is made of a high-quality 500 denier Oxford Polyester fabric. At the bottom, it is equipped with a horizontal Velcro strip along the inside for attaching side panels. The Canopy side panels from the Pro range are equipped with zips along the sides to connect them easily and make the folding tent completely windproof. The PVC mud flap on the bottom of the panels keeps them clean.
Customisation
To customise the folding tents for Defence, we used the flex transfer printing method. These kinds of customisations are all done in-house, in our own atelier. This way, we can guarantee a fast service and excellent print quality. We can also adjust the placement of the logos entirely to our customer's needs and wishes. Flex transfer printing does not affect the characteristics of the high-quality Oxford Polyester fabric (waterproof, fire-retardant, colour stability…). Moreover, this printing technique guarantees a long life for the print, even after exposure to sun and rain.
Would you like more information about the Canopy Pro range or about our customisation possibilities? Please contact us at canopy@canopy.be or call 055 23 24 24.